The 2016 Wrap up: Can it keep going?
Marty McDonald
- Thursday, December 15, 2016
While there was a slight decline in prices at the beginning of the year, the Sydney property market will end up with double digit growth again this year. This rise has been attributed to a strong economy, large population growth of around 1,100 new arrivals a week, increased demand from family's looking to upgrade and the demand from investors chasing capital growth.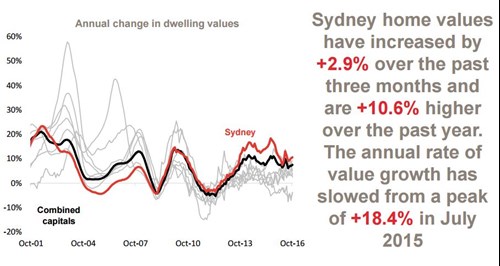 In 2016 Australian property markets experienced historically low interest rates and a patchy economy, strong in Sydney and Melbourne and weak elsewhere especially WA and rural Victoria. As such the property market is fragmented, driven by local factors such as job and population growth and supply and demand. 
Looking forward, it's likely Sydney and Melbourne property markets will outperform other areas again. There is continuing demand from investors and home owners with a distinct lack of supply of free standing properties located within the middle rings of both cities. 57% of Australia's population live in New South Wales and Victoria and these two states account for 54% of economic activity. 
Next year's property market in Sydney is all about what happens with interest rates. Lenders have already this week lifted some rates and I expect that to continue in 2017. If the RBA moves up next year that will be a signal to the market that rates bottomed in 2016 and that the party is over. Our prediction however is that there will be no change from the RBA. Lenders though will increase both owner occupied and investment loan rates over the next 12 months by around 0.4% pa. Investment rates will rise by a larger degree with the spread between the two ending up at a 0.50%-0.75% pa differential. With that in mind we predict a 5% increase in property prices in 2017 in Sydney.
About the Author:
Marty McDonald is principal of mortgage broker "Mortgage Experts". Marty specialises in assisting active property investors with loan structuring advice and implementation as well as helping credit worthy borrowers with slightly outside the box income and employment situations. Find Marty on
Facebook
and
LinkedIn
.
< back