6 simple mortgage hacks to combat rising interest rates
Russ Adams
- Wednesday, July 20, 2022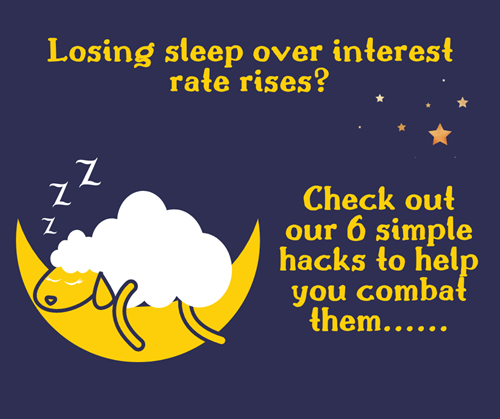 Please be aware that the information contained in this article does not take your personal financial circumstances into account and is not to be considered advice.
As you are no doubt aware, Australia's Reserve Bank (the RBA) is raising interest rates in step with many central banks around the world with a view to managing inflation. What this means for us at home with a mortgage is that our repayments are going to increase, and we'll have less cash left over at the end of the month. So, is there anything we can do to make our money go further?
Use an offset account
Most loans will have an attached offset account where you can park any surplus cash or savings. The benefit of using an offset account is that while your loan repayments are based off the limit of the loan, the interest charged at the end of the month is based off the residual balance of loan limit minus offset balance. For example, if you have a $500k loan and $100k in offset, the interest is calculated off $400k.
The higher your offset balance, the lower your interest, meaning your loan is paid off faster.
A great tip here is to update your payroll account with your employer to your offset account. The interest is calculated daily, so every day and every dollar counts!
Use multiple offsets
You will get the most benefit from your offset account by pooling every possible dollar into it. A common reason why people don't do this is that they prefer to silo their savings into categories. Some households may have a holiday fund, pet fund, car fund, school fees fund etc, and find it easier to budget using separate accounts, rather than one lump sum and a spreadsheet.
There are a handful of lenders out there who offer multiple offsets. What this means is that you could hypothetically have ten savings accounts and have all of them reducing your payable interest.
Use redraw to park your savings you don't want to spend
Quite often when people have a healthy offset balance, they become comfortable and 'comfort spending' can set in.
By setting yourself an offset balance target i.e. $50k, $100k, $200k etc you have something to work towards if your balance is less than this. If your balance is more than this at the end of the month, you could consider transferring a chunk of funds into redraw – which is effectively paying it directly into the loan account. The intention would be that these funds are locked away (but available in an emergency).
This would keep pushing the residual loan balance down ensuring you save interest and speed up the amortisation schedule of the loan. Its motivating to see the loan balance going down and it ensures you don't fall into the comfort spending trap.
Use a credit card (if you have good budgeting skills)
Many package loans will come with both an offset and an attached credit card. When part of a package, these cards are often fee free. With the correct understanding and discipline, you can use this card to pay for your general monthly living expenses, then sweep it in full at the end of the month. By doing this, you're leaving your money in the offset for the longest possible time without having to pay any interest on the credit card.
You can often enable a sweep feature to have the card paid out in full automatically (which requires making sure you have funds available).
Having a monthly sweep will allow you to track what is a usual expense month for your household.
Pay yourself a wage / save first
Another great budgeting tip is to transfer a set amount to yourself for your weekly or monthly spending This way you can control your outgoings and be aware of any reckless spending as it happens.
This will benefit people who don't keep track of their monthly credit card sweep totals and need a bit more help staying on top of their budget.
Review your home loan rate
Or let us do that for you.
Conclusion
Ultimately, there are many things you can do to maximise your household cash flow while reducing your loan costs, balance and term. To take advantage of these tips give us a call at Mortgage Experts today and we can review your current situation and design a tailored solution.
About the Author:
Russ Adams is a mortgage broker and loan specialist at "Mortgage Experts". Russ specialises in assisting active home buyers and property investors with loan structuring advice and implementation. Prior to joining Mortgage Experts, Russ spent 12 years working for a major bank in residential lending. Find Russ on
Facebook
and
LinkedIn
.
< back