< back to blog home
House Prices In Sydney Good News For Northern Beaches
Marty McDonald
- Friday, August 27, 2021
Sydney is one step closer to being an outlier when it comes to property prices with reports showing that house values in the harbour city are expected to rise by 35 per cent over the next five years. But house price rises are not just an Australian phenomenon - prices have been booming in London and New York as well.
Australia's rising housing market has become a major political issue. Many believe that Australia's tax rules are to blame for allowing investors an advantage over first home buyers, making it difficult for people to afford homes of their own.
With house prices in Sydney recently rising over the past year according to CoreLogic, Sydney's median home values are skyrocketing, increasing 21 percent from $1.01 million to $1.21 million in the past year alone! With some predictions that house prices could nearly double over the next decade, it seems likely that they will continue to be a political football.
The house price cycle is also a key factor driving the economy, accounting for around half of Australia's household wealth. There is no doubt house prices have risen substantially in recent years despite concerns about credit availability and affordability as younger Australians face rising living costs but lower pay increases, particularly those who don't own property.
Median house prices are rising in Australia, and the daily rate depends on which city is being discussed. This data shows that capital cities have experienced a median price increase of between $465 - $576 per day. Non-capital areas saw an average decline or lower rates of growth over this time period.
Even though there have been a wave of lockdowns recently, this has done little to dampen the housing boom. Australians are still very much in love with property. House prices in Sydney are continuing to climb at a steady pace, even after the COVID-19 restrictions have taken effect.
ANZ Bank predicts that Sydney and Canberra will experience more than 20% growth in home prices. This means big gains for these two cities within a year! The bank forecasts continued price increases over the next two years, but at a slower rate. A senior economist at ANZ, Felicity Emmett believes that the tightness in housing market will continue to fuel house price gains for this year.
Northern Beaches Is A Highly Desirable Area
The Northern Beaches is known to be an isolated peninsula given the transportation issues locals face and their reluctance of moving away from this area. If you live in the northern end near Palm Beach, Avalon or Newport, it may take a while to commute into Sydney's CBD via public transport. However, locals already love living on these beaches so much that they don't want to leave.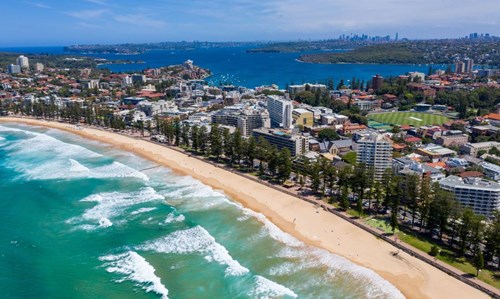 The Northern Beaches doesn't have a train line, so residents find themselves spending hours commuting to the city where they work across Spit Bridge or Warringah Road. The ultimate goal is to live and work on the Northern Beaches so you don't need commute for frustrating amounts of time. The area is a haven of beauty and lifestyle. With great schools, oodles of stunning beaches, work opportunities and carefree people it's not hard to see why it appeals so much. However things got pricey for a while but for those interested home buyers and property investors, the area has become more affordable with lots to offer at reasonable rates which makes living there even better!
In the last year, house prices in the Northern Beaches area grew by over 20%, and an average house is now worth around $1.5 million, making many homes on the Northern Beaches too expensive for a large portion of residents to purchase. For investors, the house price growths makes the Sydney region one of the best places to invest in property in Australia.
A list of the top ten most in-demand suburbs in Australia for all dwelling types highlights 3 suburbs in the Northern Beaches. Killarney Heights is listed as the 3th most in-demand with Allambie Heights in 5th place and Collaroy Plateau in 7th place.
When you look at Sydney's data for the top ten suburbs in demand for just houses, Freshwater is the top suburb with Dee Why coming in 2nd place, Manly in 6th spot and Narraweena in 10th spot. For apartments in Sydney, Fairlight is the 2nd most in demand with Queenscliff (5th), Freshwater (6th) and Manly (9th) making the top 10 list.
Now that commuting to the CBD is no longer necessary for a large portion of the workforce, Northern Beaches lifestyle attractions have become more popular. It's always been a highly desirable area, even before the pandemic. Inhabitants want to be close to lifestyle features like bush and beach as well as places such as Manly with all their amenities.
Why are people living in more desirable locations? In the last 18 months, they've made the decision because they're spending much more time at home. People are traveling great distances to live on the Northern Beaches, as homes here tend to be larger than those in other areas. Additionally, people from Inner West have been moving up north because there is a higher demand for property and fewer houses available.
There is no sign of house price falls according to Northern Beaches mortgage brokers. Property investors are flocking to the Northern Beaches, where low vacancy rates and high liveability factors make buying property a great proposition. Despite the vacancy rate rising across Sydney last year, there are still many hotspots where it is much lower. In fact, Northern Beaches apartments and houses have a very low 1% average compared to an equilibrium of 3%.
Getting your foot in the door to a life of luxury takes just one step. If you're looking for an upgrade, or simply want to settle down and start investing, our team will help you make all that possible. We can get you into the Northern Beaches lifestyle by finding a property that's right for your needs.
About the Author:
Marty McDonald is principal of mortgage broker "Mortgage Experts". Marty specialises in assisting active property investors with loan structuring advice and implementation as well as helping credit worthy borrowers with slightly outside the box income and employment situations. Find Marty on
Facebook
and
LinkedIn
.